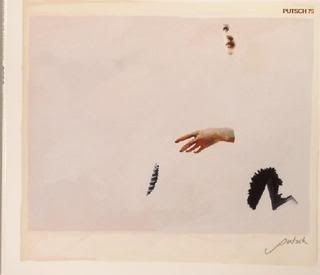 Now have I got a treat for you! Uncle Pete (sorry TNUC) has treated you again... yep that's right, not only do you sit on my lap and have some of my Werther's Originals (OK that's more of a grandad thing I know), I am also presenting you with an awesome album! Before we go on, let me first tell you a little bit about these guys:
Putsch '79 is Sami Liuski and Pauli Jylhänkangas. They were born in eastern Finland at a town called Sotkamo in year... Yeah you guessed it, 1979. Nowadays Sami lives down at Helsinki and Pauli lives up in Sotkamo. Sami and Pauli have known each other since high school where they both got interested in electronic music. They started their musical careers by playing guitar and toying around with computer music software.
(Thank you Myspace)
So yeah, I thought I would share with you their 2004 debut album from the Rotterdam based
Clone
label. This album was so hard for me to find. I had been looking for this album for absoloutley ages, so I thought I would save anyone else who is a fan the hassle by posting this brilliant collection of songs! People who do not know Putsch '79 you should download this album too (but I'm not a happy bunny because you should have at least heard one of their remixes by now!). There is not really a lot for me to say about this album apart from that it's just a pleasurable listen! It's groovy, it's mellow.... if you are fans of old Juan Maclean and good house and even the likes of lindstrom (yeah I know I didn't do the fancy cross through the o like it should be!), this will be a great treat for you (oh I forgot to mention Metro Area, silly me!).
Putsch '79- Putsch
Putsch '79 Myspace
.acdx